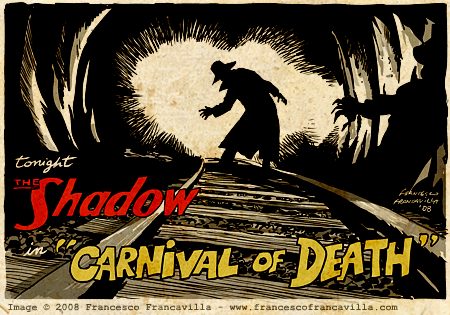 Hello Pulp friends,

I am back and I am back with apologies for my long interruption of your favorite radio program. I was under a couple of very important (and tight) deadlines, and pretty much turned myself in one of those monks from the Middle Age who spent the whole day (every holy day) hunched on the table and writing miniature text. I think they were Benedettini, from San benedetto, and their motto was "Ora et Labora" (prey and work, that's all you have to do ;)). But I am digressing. So, I am back with another Shadow radio episode (see below) and with an announcement: to make up for the long absence, what if we declare this upcoming week the Pulp Sci-Fi week? Every day I will spotlight some cool pulp sci-fi hero. Stay tuned :)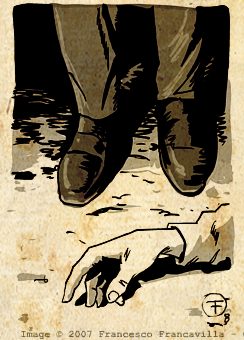 "Every move you make will be closely watched by...
The Shadow!"
Police's song comes to mind ;)
Dead bodies in the wax museum, real quicksand in the basement, an underground secret railway, a ghost train, and the shadow of a tragedy happened 10 years earlier looming over the colorful lights and the festive crowd of the Carnival.
Is this really an amusement park? Well, not much amusement for Lamont and Margo who were planning to have some fun at the Carnival and eneded up solving a case of missing people and murders. I know, it sounds like a lot of meat for one single episode, but the writers manage to make it work perfectly and even give more "screen time" to Margo in this episode. Even if there is a feel of "hauntings" and "ghosts" around the old subway and the wax museum, we will discover that once again the mind behind all this is pretty "real" and directly connected to the tragedy that hit the amusement park years before.
Have a Pulp SUnday, everyone!
Francesco
Download from the Archive