After the little break with the Green Hornet (who will be back soon), we are back with the classic radio episodes of the Shadow.
This week episode starts in a prison, where an inmate, Marty, is trying to convince another one, Paul, that they need to break out of the place to get revenge on the judge that put them both there. A tiny important detail is that the judge is Paul's uncle and even if Martin is insisting that the judge framed his own nephew to put him away, Paul doesn't believe to that and he is willing, after 4 years already spent in jail, to do the remaining 2 years he has been sentenced to. Marty keeps insisting that Paul's uncle is evil and he is pushing Paul's beloved girlfriend to marry Paul's stepbrother. That makes it! Now Paul is decided to break out of the prison with Marty, but when Marty kills a guard during the attempt, he changes his mind. Weirdly enough Marty knocks him out and succeed in the plan carrying Paul on his shoulders.
That's the part I found strange: why does Marty insists to have Paul out of the prison? Well, the answer is in the episode (which I am not going to spoil ;) - Check the link below and you'll find out).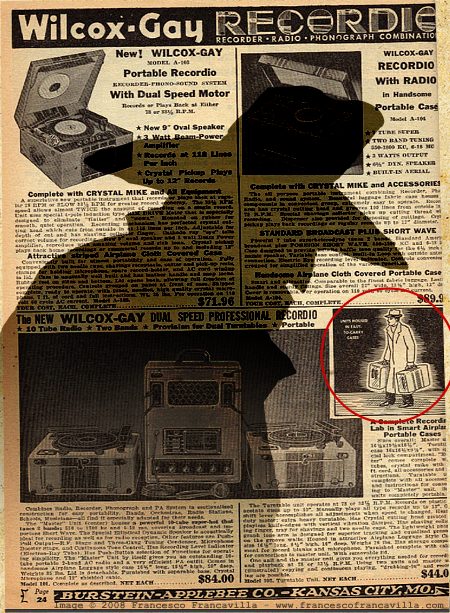 A very minutiosly planned and brilliantly executed murder, with the life of Lamont at risk and with Margo stepping in into the Shadow investigative operation, this episode has it all, including a recorder which turns out to be a key element to solve the case. The episode has been recorded in 1942, so just for the fun of it, above you can see what the common household recorder looked like at that time (this is from a 1942 catalogue). I LOVE the claim under the highlighted box: A complete Recordio lab in smart airplane portable cases! You gotta love that "small size, portable" vintage technology ;)
Enjoy the show and have a great (pulp) Sunday!
Francesco
Download from the Internet Archive