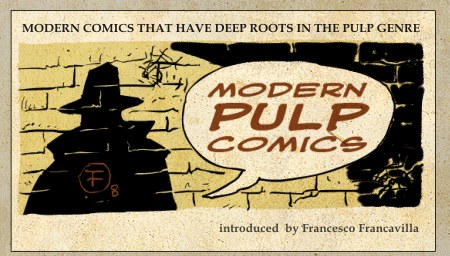 Welcome to Monstro City, multi-etnic home of humans and.. monsters! Yep, werewolves, vampires, and other beautiful "people" deals with mobsters and corrupt police.
The young detective Terri has her hands full when she arrives to the city after the father has been killed. But is he really dead? I mean, this is the kinda place where zombies are "normal" and other weird things happen...
Mark Wheatley
, creator of the series, wonderfully illustrate the pages with a nice pulpish/noir feel to the look and feel. I don't remember if I read it somewhere or if it was just a thought, but the Frankenstein Mobster character seems inspired by our very own
Jim Steranko
: similiar haircut and similiar outfit with turtleneck.
Above is my tribute to the character (which I did back in the days - gotta go to re-read those books again ;)) more inspired by the classic Frankenstein monster, which you can see below in another tribute of mine to the classic cult movie.
Cheers,
Francesco
"Modern Pulp Comics" © 2008 Francesco Francavilla