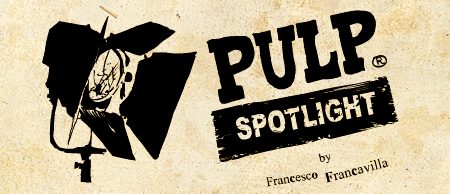 New Feature:
Pulp Spotlight
I have been illustrating several radio show of the Shadow in these past months, but it is my goal to cover also other characters of the Pulp Golden Age and other media as well. While I am planning to go back and do a few more Shadow radio episodes in the next few weeks, I would like to introduce a monthly new feature, called Pulp Spotlight. In this monthly appointment, I will provide a quick (illustrated) profile of other Pulp Heroes, based on suggestion you have been giving or on personal evergreen favorites.
Today's spotlight is dedicated to
The Spider
.
The Spider
was initially created as competition for The Shadow. The Spider, Master of Men!!, appeared in a series of pulp magazines from October 1933 to December, 1943. Six writers using the pen name of Grant Stockbridge kept America spellbound with the epic battles of Richard Wentworth (as the Spider) against the crime world. The Spider was known to be quiet strong and sometime ruthless in bringing justice where needed, most of time killing the bad guys first and asking questions later ;)
Eventually the success of this pulp hero was enough to grant a couple of movies and a constant revival of his "adventures" through the 20th Century (lately brought back to pulp life by Moonstone in the form of illustrated prose).
A good starting point to know more about the Spider is, as usual, the related topic page on wikipedia - http://en.wikipedia.org/wiki/The_Spider .
Hope everyone enjoy the illo and have a great Pulp Sunday!
Cheers,
Francesco